About Gymnasium of West Bengal State University
Cultivating a healthy relationship with fitness for personal well being is vital for every individual and more so with college students. According to research published by Harvard Medical School, the following was discovered:
* One out of four students were either diagnosed with or treated for mental health issues.
* One-fifth of students had thought about suicide and 20% reported self-injury.
With such staggering findings, it is time for colleges to take responsibility for the mental and physical well being of students. One great place to start would be to build a fitness center within the college premise. Not only will it help students improve their physical and mental well being but the healthy habits formed in college will stay with them throughout their lives. Let us look at four reasons to start a fitness center at colleges and universities.
1) Reduces Risk of an Ailment
Individuals who are physically active have a stronger immune system. If students have access to a fitness center within their college, they are more likely to make fitness a priority and stay healthy. When their immune systems become strong, it will also ensure that they will be less likely to catch an ailment or virus such as a cold.
2) Relieves Stress & Fatigue
With academic and societal pressures it comes as no surprise that students undergo a lot of stress. According to a study, 80% of students in higher education report experiencing anxiety. Another study pointed out that 9 out of 10 students report experiencing stress.
Prolonged stress may give rise to multiple health issues such as heart problems, depression, cognitive impairments, stomach ulcers, and migraine to name a few. This research states that regular exercise can drastically cut down on stress. What better way to help your students cope with stress than ensuring they have a gym within the campus for working out.
3) Improves Focus & Attention
There has been enough scientific evidence to prove that exercising improves blood flow and makes your brain work better. Take this following study for instance. A 20-minute aerobic workout conducted on Dutch students showed improvement in their attention span. Another study had students exercise on stationary bikes and treadmills for 20 minutes. Teachers not only noted an improvement in their focus but also observed that the students' ability to participate in discussions and retain information had significantly improved.
4) Offers a Chance to form New Friendships
Many students might spend time working out by themselves or in a different gym outside the college. However, it might not offer them the opportunity to interact with students within the college, who might be interested in fitness as well. Having a fitness center within the college will allow students to interact with other students who share similar fitness goals and build camaraderie. They are more likely to form new friendships that open up ways for motivation and support when they need it the most.
Leading a fit and healthy life is an attainable goal for every individual. However, they must first be provided with the means to attain them. If colleges and universities took the above-mentioned reasons and installed a gym in their premise, there is no doubt that students will witness some phenomenal improvements in their academics and personal life.
West Bengal State University maintains a very well-equipped Gymnasium equipped with Trade Mill, Weight Training Machines, Pusher, Cycles, Ab-reducer and many other technical equipments for Weight Reduction and Health Maintenance. Practice is done by the students maintaining all the COVID-19 protocols on Time-sharing basis.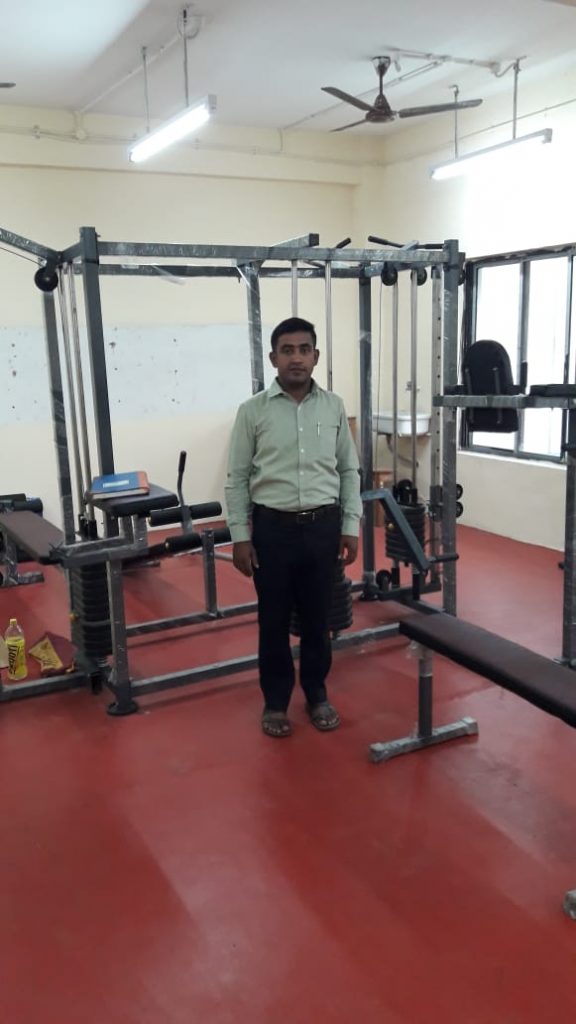 Md. Abdul Maruf Mia, Gym Instructor & NSS Volunteer, WBSU