WEST BENGAL STATE UNIVERSITY
NATIONAL SERVICE SCHEME (NSS) CELL
'NOT ME, BUT YOU'

Swami Vivekananda to Youth
Supreme value of youth period is incalculable and indescribable. Youth life is the most precious life. Youth is the best time. The way in which you utilize this period will decide the nature of coming years that lie ahead of you. Your happiness, your success, your honor and your good name all depend upon the way in which you live now, in this present period. Remember this. This wonderful period of the first state of your life is related to you as the soft wet clay in the hands of the potter. Skillfully the potter gives it the right and correct shapes and forms, which he intends to give. Even so, you can wisely mould your life, your character, your physical health and strength, in short your entire nature in any way in which you make up your mind to do. And you must do this now.
O fortunate youth, recognize this great duty. Feel this wonderful privilege. Take up this adventure. God watches you graciously, ever ready to help and guide. I wish you to be great. The world has put its faith in you. Your elders keep their hopes in you. Now youth means to place your firm confidence in yourself and exercise your hopeful determination and resolution and willing good intentions in this beautiful task of self-culture. This will truly bring supreme satisfaction and fulfillment not only to you, but also to all concerned. The shaping of your life is indeed in your own hands.
Practise virtue, persevere in virtue. Become established in virtue. Shine as an embodiment of noblest virtue and heroic adherence to goodness. Youth is meant for this grand process. Youth life is the active development and fulfillment of these processes. This period of your time provides the suitable and favourable fields for the working out of this extremely important and most indispensable process in life. This is the special significance, the great importance and supreme value of youth life. It signifies the creation of noble personality. It is atma-Viakasa. It is Atma –Nirmana. Please try to understand the correct implication of the term successful life. When you talk of success with reference to life, it does not merely mean succeeding in everything that you undertake or do; it does not merely mean succeeding in fulfilling all wants or getting whatever you desire; it does not just mean acquiring a name or attaining a position or imitating fashionable ways appearing modern or up-to-date. The essence of true success is what you make of yourself. It is the conduct of life that you develop, it is the character that you cultivate and it is the type of person you become. This is the central meaning of successful living. Therefore, you will see this important matter is not so much a question of success in life. ( Jivan – Me- Safalta) but rather it is success of life. Such successful life is one that succeeds in producing an ideal individual, a noble man. Your success is not measured in terms of what all you obtained but in term of what you become, how you live and what actions you do. Upon this point reflect well and attain great happiness.
Basic Concept of NSS
The overall aim of National Service Scheme as an envisaged earlier, is to give an extension dimension to the higher education system and orient the student youth to community service while they are studying in educational institution. The reason for the formulation of this objective is the general realization that the academic institution and the students have a tendency to get alienated from the village/slum mass which constitute the majority of the population of the country. The educated youth who are expected to take the reins of administration in future to be unaware of the problems of the village/slum community and in certain cases are indifferent towards their needs and problems. Therefore it is necessary to arouse the social conscience of the students, and to provide them an opportunity to work with the people in the villages and slums. It is felt that their interaction with the common villagers and slum dwellers will expose them to the realities of life and bring about a change in their social perception.
The Motto
The motto or watchword of the National Service Scheme is "NOT ME BUT YOU". This reflects the essence of democratic living and upholds the need for selfless service and appreciation of the other person's point of view and also to show consideration for fellow human beings. It underlines that the welfare of an individual is ultimately dependent on the welfare of an individual is ultimate dependent on the welfare of society on the whole. Therefore, it should be the aim of the NSS to demonstrate this motto in its day-to-day programme.
Aims and Objectives of NSS
The prime objectives of NSS are :
To work among the people.
To engage in creative and constructive social work.
To enhance the knowledge of community.
To put scholarship to practical use in mitigating at least some of the problems.
To gain skills in the exercise of democratic leadership.
To gain skills in the programme development to enable for self-employment.
To bridge the gulf between the educated and the uneducated masses.
To promote the will to serve the weaker section of the community.
Observance of the NSS Day
On September 24, 1969, the then Union Education Minister Dr. V.K.R.V. Rao, launched the NSS Programme in 37 universities covering all states and simultaneously requested the chief ministers of states for their cooperation and help. It was appropriate that the programme has been started during the Gandhi Birth Centenary Year as it was Gandhiji who inspired the Indian youth to participate in the movement for Indian independence and the social uplift of the down-trodden mass of our nation.Celebration of NSS Day on 24th September from the year of 1994 onwards as per Ministry's direction given.In his address at the National Convention of NSS Key Personnel and Launching of NSS SJY Hon'ble Union Minister for Human Resource Development made an announcement that henceforth 24th September would be observed as NSS Day every year.
Advisory committee of National Service Scheme (NSS),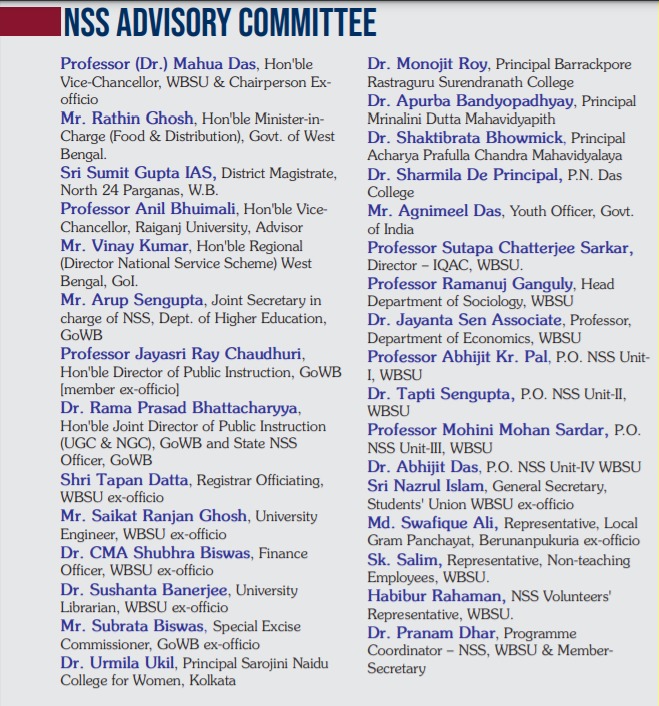 NSS Advisory Committee meeting… held at WBSU… on 18.05.2023
Achievements by NSS Cell, West Bengal State University
News Publishing for the Event
Vice Chancellor Receiving the Prize
Certificate
In 2020-21, WBSU, Barsat has been awarded as the Best University for National Service Scheme.
In 2009, State NSS Cell, Government of West Bengal, approved the NSS activities to beperformed by West Bengal State University, with 27 units from 23 affiliated colleges anduniversity itself, which were previous controlled by the University of Calcutta. The initialvolunteer capacity was sanctioned as 2700. But, with the active and passionate helpand approval from the Department of Higher Education, Science and Technology &Bio-technology, GoWB, the number of units have increased to 55 with a total volunteerstrength of 5500. Not only this increase in GER of NSS volunteers, enhancement in the quality oftheir community outreach are also well recognized by the Ministry of Youth Affairs, Governmentof India and also the State NSS Cell and Department of H.E., Government of West Bengal, byinvolving them actively in different important social and community activities. Resultantly, weare delighted and proud to inform youthat as endorsed by the Ministry of HigherEducation, GoWB and duly selected by theSelection Committee, our university has beendeclared as the 'Best University for the year2016-17' as a part of the NSS Award, GoWB.
For this, we, on behalf of the NSS Cell, WBSU, express our indebtedness to Ms. Mamata Bandyopadhyay, Hon'ble Chief Minister, GoWB and Dr. Partha Chattopadhyay, Hon'ble Minister-in-Charge, Department of Higher Education, Science and Technology & Bio-technology, GoWB, Further, we express our deep sense of gratitude to Mr. Sukla, IAS, Hon'ble Additional Chief Secretary, Dept. of H.E., GoWB, Ms. Madhumita Roy, IAS, Secretary, Dept. of H.E., GoWB, Prof. Jayasri Ray Chaudhuri, Hon'ble Director of Public Instruction, GoWB, Dr. Rama Prasad Bhattacharyya, State NSSOfficer, GOI and Jt. DPI, Dept. of H.E., GoWB, Ms. Sarita Patel, Regional Director-NSS, Kolkata, Govt. of India and Mr. Deepak Sharma, Youth Officer,GOI for their motivation, inspiration and continuous support for involving the NSS Volunteers and Programme Officers into integrated communityand social outreach for the betterment of the society. We are also motivated by the encouraging efforts by officials like Dr. A.N.Dey, Dr. Malay Mukherjee, Dr. Badal Jana and many others. We would be failingin our duties if we don't mention our indebtedness to the Hon'ble Principals of the affiliated colleges, who in spite of their very busy schedule, alwaystried to encourage the NSS volunteers and Programme Officers and more specifically, involved themselves with those activities and done a lot forthe local community people. Their major activities include preparation of Dustbin for the local community, distribution of food and teaching aids,different health, education and social awareness camps, literacy initiative for the minority children, supporting the orphanage, helping the destituteand many more. The last but not the least, we express our love and gratitude to the NSS Programme Officers, specially, Dr. Abhijit Kumar Pal, FormerProgramme Coordinator & Programme Officer, Unit-1, WBSU, and to all the Advisory Committee Members, who, in spite of that fact that this is theiradditional charge, and also to my beloved NSS volunteers who did their level best to give these social initiatives a new shape, not only in WBSU, butalso in West Bengal and also outside West Bengal and also to bring glory and pride for us. Finally, I would be failing in my duty if I don't express mylove and affection for Sri Nazrul Islam, General Secretary, Students' Union, who always helps the university in all the good activities including that ofthe NSS Cell. The NSS Cell of West Bengal State University has always been active in social initiatives. The initiatives started are briefly outlined below :
Like the last 4 years, for the year 2017-18 also, the NSS Cell (including NSS Units 1,2,3 and 4 of the University) in association with the Students' Unionoganised a 7-Days' State-Level Workshop for the Programme Officers as well as for the PG volunteers from 13.08.2018. to 20.08.2018. at the UniversityCampus. In this programme 45 Programme Officers form 45 units of the affiliated colleges and university and 246 PG volunteers were trained andinteracted, the theme being "Youth Motivation, Environment and the Role of NSS". Among the other dignitaries, Professor Jayashri Roychowdhury, Hon'ble Directorof Public Instruction, Govt. of West Bengal, was the Chief Guest of the Inaugural Programme of the workshop. Ms. Sarita Patel, Regional Director – NSS,Kolkata, Dr. Ramaprasad Bhattacharyya, State NSS Officer & Jt. DPI, Dept. of H.E., GoWB, Professor Arun Hota, Hon'ble Director, IQAC, WBSU, SwamiTattwasarananda, Principal and Secretary, RKMSM, Dr. Tanmoy Rudra, Executive Secretary, CIU, New Delhi, Dr. Partha Karmakar, Hon'ble DeputySecretary, WBBSE, GoWB, Ms. Piyali Das & Mr. Jagadish Jana, Asstt. Directors, WBSAP&CS, GoWB. Dr. A.N.Dey, State Adviser, State NSS Cell, GoWB,Dr. Vivekananda Chakraborty, Rastrapati Awardee Head Master, MTS, Dr. J.N.Sengupta, TISS and Mr. Subrata Biswas, Former Director, NCB, Govt. ofIndia were present as the special guests. 'Active Programme Officer Award' was accorded to 45 Programme Officers and 'Active Volunteer Award'was given to 78 NSS volunteers from all the affiliated college units including the university units for their courageous and spontaneous participationand remarkable performance in different community outreach activities. For the year 2015-16, 'Best Volunteer Award' was given to 2 volunteers and'Best Programme Officer Award' was given to 1 NSS Programme Officer.
In the workshop, lots of eminent dignitaries were present like Prof. Subir Biswas, Head, Dept. of Anthropology, Prof. Abhijit kr. Pal, Head, Department ofEducation, West Bengal State University, Prof. Pratiti Ghosh, Head, Department of Physiology, West Bengal State University, Prof. Mohini Mohan Sardar,Head, Department of Bengali, Dr. Tapti Sengupta, Dept. of Microbiology, West Bengal State University, Mr. Ajoy Chakraborty, Globe Trotter, Ms. AbulKalam Azad, Basanti Devi College, Kolkata and Mr. Kaushik Shaw, Sonarpur Mahavidyalaya. At the same time, data were collected about the youthof Berunanpukuria, Jagannathpur and Malikapur, involving 246 NSS volunteers (PG), which created a very positive motivation among the volunteers,as it included different awareness courses like on : Environment, Youth Health and Development, Food & Nutrition, Human Rights, ConstitutionalInstitutions, Adventure Sports, Drug Abuse, NSS initiatives, Social Outreach, Bank Fraud and Financial Literacy and Child Care. Besides, the NSS Cell ofthe University published its Newsletter for the year 2017-18 for the second time and presented to all the officials as well as to the programme officerspresent in the workshop.
Special Community Outreach Activities initiated by NSS Cell, West Bengal State University.
International/National Day(s)/Week (s) to be observed by NSS
| | |
| --- | --- |
| DAYS | DATE |
| | |
| 1. National Youth Day | 12th January |
| 2. Republic Day | 26th January |
| 3. Martyr Day | 30th January |
| 4. International Women Day | 8th March |
| 5. World Health Day | 7th April |
| 6. Anti-Terrorism Day | 21st May |
| 7. World No Tobacco Day | 31st May |
| 8. World Environment Day | 5th June |
| 9. World Population Day | 11th July |
| 10. Independence Day | 15th August |
| 11. Sadhbavana day | 20th August |
| 12. International Literacy Day | 8th September |
| 13. International Peace Day | 15th September |
| 14. NSS Day | 24th September |
| 15. National Blood Donation Day | 1st October |
| 16. Communal Harmony Day | 2nd October |
| 17. National Integration Day | 19th November |
| 18. World AIDS Day | 1st December |
| 19. World Human Rights Day | 10th December |
| WEEKS | DATE |
| National Youth Week | 12-19 January |
| Van Mahotsava Week | 1-7 July |
| International Literacy Week | 8-14 July |
| Qyami Ekta Week | 19-25 November |
Guidelines on How to Open A New NSS Unit in the College / University
College(s) willing to open a new NSS unit may apply along with the Governing Body Resolution of the concerned college(s) by proposing the name of the Programme Officer, who must be elected/nominated from amongst the faculty members of the concerned college(s). Further, as directed, a dedicated NSS Account must be opened as per PFMS Registration Norms. The related documents are to be submiteted to WBSU Finance to facilitate online funds transfer. For further details in this regard, consult the NSS Manual available in the website: www.nss.nic.in.
Contact Person
Dr. Pranam Dhar
Programme Coordinator-NSS Cell, & Associate Professor,
Department of Commerce & Management,
West Bengal State University.
M-09830071587
Email id : pranamdharit@yahoo.com